Many foreigners wonder what can they do or say to be charming on a first date with a hot Russian girl. And there are a lot of pitfalls that you can avoid when inviting a Russia lady on your first date.
In fact, many men go as far as Googling guides or instructions on 'how to date a Russian woman', but in reality there is no shortcut or perfect scenario that would help you seem charming on the first date, since every girl is different.
First and foremost, just like any other women, Russian women can be late for a first date. And in order to seem charming in her eyes, you'll have to be cool and forgiving about it.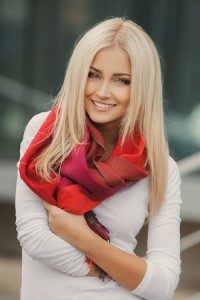 Well, if she is late more than an hour, then know this: there are lots of other Russian girls on Russian dating sites. You get the idea, right?
In fact, a first date is your only opportunity to see if the girl you've been chatting with is real or not. Because there are all kinds of fake profiles on dating websites that sometimes look like real Russian women.
For Russian women, dating is always a special occasion, so they don't want to deal with your melancholic face throughout the date. So it's essential to come to your first date in good mood. Watch comedies, talk to your friends about positive things, listen to the music you love – do it a few hours before the date.
Young Russian women like their men to be confident and tough. So throw all of your insecurities out of your head and have a calm but confident voice when you're talking to a Russian girl on a first date.
Make that first date fun for both you and her. Don't even mention topics such as: problems in your life, politics and sports. That's a no-no! You can mock her a little to make it more fun. But there is a certain line that you cannot cross: your girl must remain confident and comfortable throughout the date.
In order to be charming, you'll have to be a little mysterious. So when a girl asks you questions, don't reveal everything and too much at once. She'll surely ask you questions that have some double meaning or questions that can help her find out things that weren't mentioned in those questions.
So don't tell everything at once, leave a little bit for later. Russian brides seeking men online want to find a man they would be interested to talk to, which is why it's essential for you to do the talking and never have pauses during the first date.
If you're struggling to come up with a topic to discuss with a Russian woman, look around yourself. Look at the people around you or objects and you'll surely find something to talk about.
Touching. Touching is as important as talking on the first date with a Russian girl. You should touch your girl as often as possible: when you're crossing the road, when you're watching a film, etc. And touch her in a natural way, with confidence and warmth in your hands.
Copy her body language. But not entirely. That's the trick that makes you look more charming in her eyes. A girl that sees natural (to her) body language tends to be more relaxed on the first date.
But don't overdo it and copy every single movement of hers. Or she will think you're some kind of a weirdo. Just make it look as if you and her are in complete harmony with one another. That's the thing that attracts Russian girls: to feel natural even around a foreigner.